Combined Energy Healing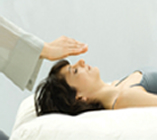 Energy Healing is the practice of balancing the Energy field that flows within & around the human body. Combined Energy Healing incorporates several different forms of energy healing in conjunction with path working which focuses on self development - Bringing about healing & empowerment. As this form of healing may be combined with personal work such as meditation, visualisation, affirmations & Eft techniques, it is important that individuals embarking on this course of treatment be committed to moving forward & making positive changes in their lives.
Following a full consultation your Practitioner will work with you to focus & amplify your life-force energy. In the East these energies are called 'prana' (the Sanskrit word for breath). Prana stands for the life force/life energy, and it is involved in physical, mental and inner health. In China the same energy is called Chi. With Combined Energy Healing the mind, body & spirit are worked on as a whole, whilst empowering the recipient to take simple yet insightful action to balance & heal themselves, through breathing & awareness exercises such as releasing, visualization & intention. It is a healing journey carefully chosen to suit the individual.

Your practitioner will use specific forms of energy healing to release blockages & rebalance your energy field. They will then progress to working with you through emotional or subconscious issues which are so often the root cause of our physical ill health. These could be inherited fears, limiting beliefs which are keeping you from realizing your dreams or goals, childhood issues, body image difficulties, trauma, grief, relationship breakdowns or various stress related and self confidence issues.

Improving your mental & emotional attitude will allow your energy to flow in better harmony. So often we block the flow of energy around us with negative thought patterns like worry, self-doubt, fear, anger, depression, etc. You can take all the vitamins you want, eat all the right foods & even exercise regularly yet still have a low chi energy level simply because you feel lousy about yourself. Changing your emotional attitude & learning to understand & feel good about yourself will help to relieve many of these blocks, helping to raise your life force energy & bring a new sense of purpose to your life.